Joined

Nov 28, 2004
Messages

3,558
Location
Car(s)

Mostly my feet, occasionally a Tesla
Olympus is due to launch some new stuff on January 29th. First and foremost a
cheaper OM-D is on the way
,
pictures of the E-M10
:
Olympus OMD E-M10
- 16MP sensor (same as E-M5 and with no PDAF)
- True Pic VII processor (same as E-M1)
- Very small body
- integrated flash
- 3 axis stabilization
- comes with new compact zoom as kit lens
E-M10 size comparison
:
According to rumors it will ship with a new collapsible 14-42mm pancake zoom.
That new pancake zoom comes with an interesting lens cap
, and looks rather premium, here in silver: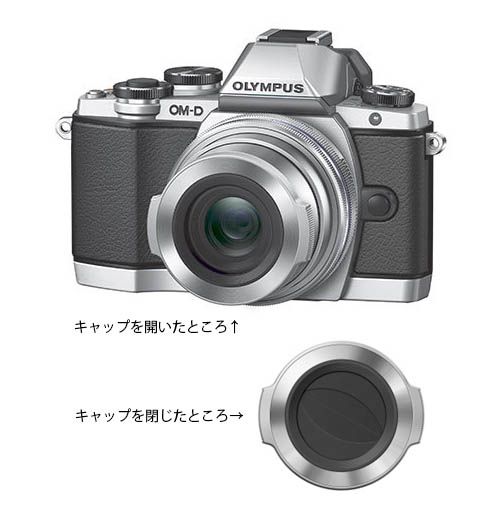 M.ZUIKO DIGITAL ED 14-42mm F3.5-5.6 EZ
- 37mm filter diameter
- Comes in black and silver
- Estimated retail price of around 35,000 yen (250 Euro or around $335)
- Has a lens cap (correction, it?s not built in. You can remove it!)
They will also launch a new 25mm f1.8 prime lens to add to their lineup of fast primes. I know mFT-users have been asking for a more reasonable alternative to the Lumix 25mm f1.4 for a while now, and this is it. It's more or less the same size as the 45mm f1.8. Here is how it fits in:
M.ZUIKO DIGITAL 25mm F1.8
- 46mm filter diameter
- Minimum focusing distance is 0.25m
- Comes in black and silver
- Estimated retail price of around 35,000 yen (250 Euro or around $335)
BCL-0980
- Fish-eye lens of 9mm f/8.0
- Minimum focusing distance 0.2m
Rumor is that this will replace the E-M5 in the OM-D range and is meant to differentiate the E-M1 from the rest of the range. The E-M5 will remain in the range for as long as the stock lasts. The E-M10 has no accessory port above the view finder, but it has a built in flash, it is also supposed to feature a simplified version of Olympus' image stabilization system. It will most likely ship with the new collapsible 14-42mm zoom, but there is also a possibility that it will ship with the 25/1.8 normal lens, just like the good old days... There are no words about wether or not the E-M10 is weather sealed like the E-M5 and the E-M1, I hope it will be as that would enforce the impression of OM-Ds being very solid cameras that can take a beating. I sincerely hope Olympus will price this aggressively, they need to...
Edit:
All of it is now official
. Also to all E-M5 owners out there, firmware version 2.0 is out, you can now have a base ISO 100, and select a smaller spot AF area, still no focus peaking though...
Last edited: