Joined

Jun 21, 2005
Messages

9,675
Location
Car(s)

The Jeep of Theseus, Angry Wagon
I kinda forgot to post this back when I got the vehicle, so here goes.
So, in the interests of impracticality and getting some cheap kicks, my goal for the summer was to bag myself a cheap truck or SUV so I can have some offroad fun without hurting the bank account too badly. I gave myself a budget of $500 for the vehicle itself and $250 for anything I might need from the junkyard.
Enter... the Jeep! Yes, it needs a clean.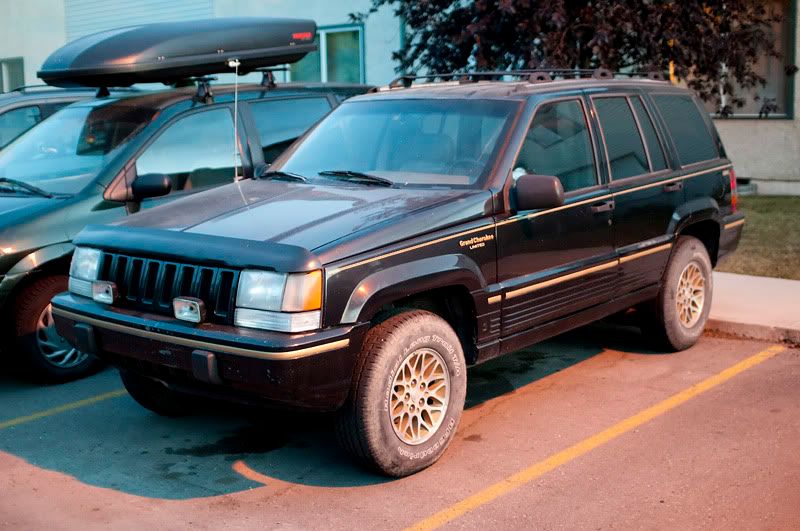 It's a 1994 Jeep Grand Cherokee Limited with the 5.2L MPI V8, in solid condition with a certified insurance inspection ($100 value!!! Shamwow not included.) It's clean, drives well, and is in outstanding nick for $500.
The Good:
- Dodge 5.2 (318) motor, 225 hp/300 ft?lb
- 46RH transmission w/ Quadra-Trac
- Full leather interior, and other Limited stuff like heated mirrors and electric everything (and more to the point, electric everything that
works.
)
- Pre-towing package with the 3.73 gears, hitch, and auxiliary transmission cooler
- Alpine deck with MTX speakers all around, sounds great!
- No significant rust at all
The Not-So Good
- Motor has a LOT of km. 375,000, actually. But, then again, 318 Dodge, so no biggie. I'll rebuild it this winter if I find I have too much time on my hands.
- Fuel gauge didn't work. I figured the float was just saturated, and sure enough that was the problem. Yanked a float/resistor assembly from a junkyard fuel pump for $5, problem solved. Re-installing fuel tank was a PITA.
- Driver's side mirror was cracked, replaced with a $10 one from the junkyard. Still needs to be painted.
- One rear seatbelt was horribly frayed. Replaced with a spiffy one from the junkyard, $18.
- Battery was toast. $80 for a new one.
- Paint in some areas isn't the greatest and is fading, but I really don't care that much.
- Engine idled rough and a bit high. Cleaned out IAC and it's smooth as anything now.
- Air filter was crap, found a brand-new one in the back of a Jeep at the junkyard. Got it for free.
- Corner marker was cracked, got a replacement from the yard for $16.
- Fog lamp covers are missing, I'll likely just keep an eye out for some replacement units.
- Hatch lift rods were toast, got some from the junkyard for $24.
- Needed an oil change, $15 for a filter and I had oil sitting around.
- Spare tire cover was missing, got one from the yard for free.
So, $500 initial investment and $175 worth of finishing touches into it and she's ready to roll, and under budget as well. Not the most capable offroading machine in the world, but it'll do the trick and still allow me to lug my camera gear to the more remote locales. However, there's still some things on the to-do list.
To-Do List.
- Remove the stupid big deflector. I keep forgetting.
- Clear coat is coming off the aluminum wheels and is starting to look like crap. I will be resurfacing and painting them satin black. I'll look boss
http://i220.photobucket.com/albums/dd316/fraserbrown1986/New1034.jpg
- The vehicle has the NV249 transfer case, which is known for having a weak viscous coupling unit that breaks fairly frequently. Mine is still good, but I'd much rather have an NV242 unit in there that has 2WD/4WDFT/4WDPT/N/4WDLO instead of just 4WD/N/4WDLO and is much more reliable. However, they're usually not that cheap, there's a Jeep specialty yard out here that wants $600 for a used one, so to hell with that noise. I'll just keep an eye out at the normal yard in case one comes in and grab that for $100. No rush.
- While the diffs have 3.73's, this particular unit wasn't fortunate enough to get the Traction-Lok LSD. I'll keep my eyes peeled for one of those as well, or see if I can get a compatible unit for cheap. I considered swapping in a Dana 44a instead of the Dana 35, but apparently that's a major pain and expense. Not going to bother.
- Also looking out for a gas tank skidplate, they had one at the yard last time I was there but it was bent to hell.
- Front tow hooks
- Better tires, maybe with a small, easy, cheap (2") suspension lift to clear the tires if I get larger ones.
So, that's the story so far. I'll probably have time to hit the trails in the spring, so I'm really looking forward to that. If things pan out well this week, I should also have a "How much fun can you get for $500? - Motorcycle Edition" thread.
Last edited: