Joined

Feb 11, 2007
Messages

902
Location
Car(s)

'91 Sentra SE-R, 2003 Triumph Speed Triple 955i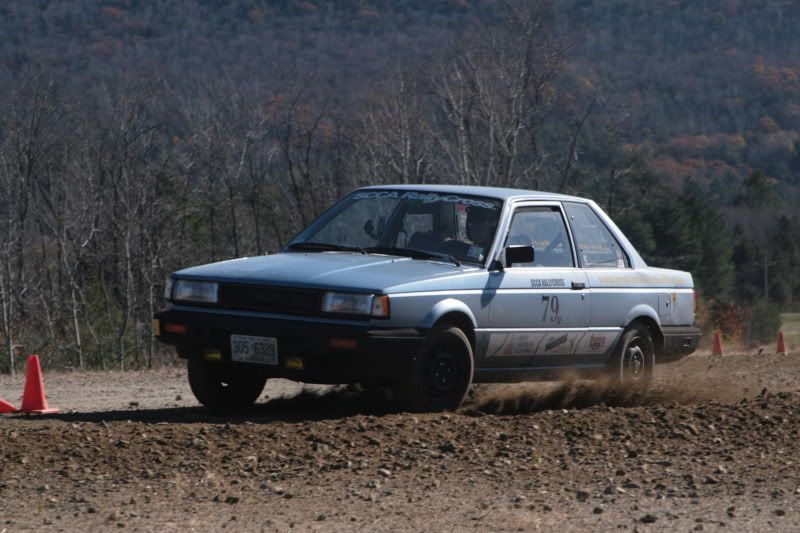 After a very fun and exciting first year in SCCA Rallycross with my $300 daily-driven '88 Nissan Sentra, I sold it to a gentleman who wants to get started in Rallycross - and went to school with my hero - Wyatt Knox! So he will be back next month running the car in Stock Front again, which will be very cool!
So here's the journal for my new car, and my efforts in Stock AWD. It's a 1999 Impreza wagon! After a long time of deciding a name, I have decided that this Subaru will be named...
Dennis
. Dennis will be my daily driver as well as my rallycross car, and time/funds allowing I will be driving out to Tulsa later this year for the National Championship!
I picked Dennis up in Rutland, Vermont as a dealer wholesale car after a lengthy online search for a good Impreza. 146,000 miles, documented clutch and timing belt/water pump replacement, some quarter panel rust and dents but a great car. Brand new all-seasons, perfect "street tires". I've already put quite a bit of mileage on it in daily driving and it's been holding up very well!
I have met a retired autobody technician who does a great job with rust repair, and took care of all the rust for a very reasonable price - after he fixed it I just threw some primer on the spots and called it a day. "Perfection is the arch enemy of good enough" is my opinion on appearance. I have four extra wheels I bought on Craigslist so I can have a set for both the all-seasons and the General Altimax Arctics I have on order.
My first race with Dennis will be January 21st-22nd in Stafford, Connecticut!
I had a ton of fun at my first Rallycross in the new car, with a 5th out of 20+ entries in Stock AWD on Saturday, 7th out of 15 on Sunday and a 5th overall for the weekend! Right where I hoped to be considering I had never owned an AWD car before, and all those ahead of me are really experienced AWD drivers, including the 2011 Stock AWD Champion, and a stage rally driver. Looking forward to seeing how my driving improves over the coming months!
_______________________________________
Video from today's Rallycross, NER@NED! Another great race day, 17 entries and I managed a clean 2nd place finish in such a large class, eight seconds behind the 2011 Champion! Had so much fun, my new Subaru is holding up great.
Video from NER@NED, which was on 2/4/12!
_______________________________
Very *ahem* interesting weekend to say the least!
I volunteered to work checkpoints at Frost Heaves Road Rally on Saturday, and Slip-N-Slide Rallycross was on Sunday. I dual-registered for the Rallycross, in SA with my car, and in Modified FWD in a Dodge Neon (with a 2:1 steering quickener, but more on that later!) which was shared with a fellow driver. Figured it would be fun to drive a modified car for the first time!
Working checkpoints was a very interesting learning experience that went much more smoothly than expected. Glad I was able to help out, I was the only dedicated checkpoint worker at the event, any checkpoints I couldn't cover were run by "run workers", rallyists who stop to work a checkpoint. The route covered 160 miles of eastern New Hampshire and western Maine, with plenty of scenic paved roads and exciting dirt roads, made very challenging by the mud and severe ruts. Glad I was able to help out!
This was the second checkpoint I ran, which was a closed checkpoint on a one-lane, ice-covered dirt road. Rallyists drove over the timing hose, and continued on their way. For this one, I simply had to see their number as they went by, and record their leg time.
Checkpoint #10
I then went to the finishing point and hung out with everyone for their awards, since a good portion of the guys running the TSD Rally were also fellow Rallycross drivers. I met a couple of people at Frost Heaves that actually came out and competed at the next day's Rallycross, and few more future Rallycross addicts who hope to come out to the next one!
After driving all over New Hampshire and Maine, I made my way back to my town, washed the mud off my car so I could use my camera mount on the outside at the race, topped off my fuel and washer fluid, then proceeded to pull out onto the road...and Dennis sputtered to a halt. Turned the key, no fuel pump noise. Fuel pump had given up. Unfortunately 10PM on a Saturday night did not give much hope for finding a new one, so I had to throw in the towel. Really hoping to not have to miss my race in Stock AWD, and since I was also running in M2, I found backup transport in the form of one of the work vans from my job, a lower-resale-value-purple Caravan, and headed out bright and early (losing an extra hour of sleep due to DST, dammit!) to New England Dragway in Epping, not knowing if I would even find anyone willing to let me use their car. I just figured, head on down and make the best of it, and I'm sure everything would work out. Considering how far away from home I was all day, it really worked out the best it could, since the failure happened right as I got back into town. A good samaritan with a pickup truck helped me get my car home with the help of my tow strap. The price of the new fuel pump is nothing compared to the tow fees I would've had, if it had happened 100 miles from home. I really should invest in a AAA membership, as I have been telling myself for the past few years!
I got to the event bright and early on Sunday morning, and seeing the smiling faces of my fellow Rallycrossers helped me forget that I needed to sort out my car trouble the next day. Nice thing about Rallycross is that it's kind of my positive escape from the stresses of day-to-day life. Everybody is very positive and friendly, and you can't help but have an awesome time no matter what. I started talking to my fellow SA drivers, and got a few offers to be able to borrow cars, at least for a run or two. Then, I ended up talking to Paul, who drives a black '99 2.5RS - not only was he more than happy to let me drive his car and be able to race, but he let me use his car all day! Paul, I've already said this to you countless times, but thanks again for saving the day and allowing me to compete in my class. You're a gentleman and a scholar.
A very muddy course awaited all 70 competitors, more muddy and slick than I have ever seen before. Slip-N-Slide truly lived up to its name this time. A slalom over the one section of hard gravel was the main place to make time, after that it was a game of keeping momentum - even AWD cars were struggling. Quite a few cars got stuck, including a Subaru, thankfully we have multiple drivers who compete in trucks that helped pull stuck vehicles out of the muck. Very challenging and difficult to remain consistent, but as much fun as always and I managed a comfortable 4th place finish in the borrowed 2.5RS. I would have been pretty happy with that place, even if I was in my own car!
Here is the Modified FWD Dodge Neon I also drove, and what a blast this car is! Modified FWD is a very fast and ultra-close class with a bunch of very skilled drivers. With the 2:1 steering quickener, steering was pinpoint-control like a go kart, which made the slalom sections insanely fast and exciting! I was very glad that David Dennis offered for me to play in Modified FWD with his car, and riding shotgun with him at the wheel was a hell of a rush, and a great learning experience watching his expert left-foot braking.
So that wraps up a very hectic, but fun and memorable weekend! Staying positive and making the best of a less-than-optimal situation, I had a blast, did pretty well in Stock AWD and had a great taste of Modified FWD to boot. If I ever move to a non-stock class, a steering quickener would be an invaluable upgrade. Thanks again to Paul for letting me use his car, to David for letting me play with the Neon, and to everyone who organizes and participates in our excellent Rallycross program and makes it such a great place to be.
_____________________________________
In other news, after a while of trying to find one, and then confirming that the non-functional hood scoop won't put me in any issues with stock class, I was actually gifted a RS / OBS hood, that even happens to be the matching color, by Modified AWD competitor Ryan Wilcox (sharkattack). He saw that I was looking for an OBS hood, and he just happened to have this one laying around, collecting dust, and was nice enough to bring it to Slip-N-Slide and give it to me free of charge! Looking forward to putting this on after Dennis gets running again. Thanks again, Ryan!
_____________________________________
Dennis rides again!
New fuel pump - and the spark plugs and wires were covered in oil due to leaking valve cover gaskets. New valve cover gaskets, spark plugs and wires - paired with the new fuel pump also removed the low-RPM hesitation under load. Excellent!
Thanks to Ryan Wilcox, I also have a matching-color OBS/RS hood, normally I'm not too crazy about cosmetics, but it just looks cool!
Next race is Rochester Fairgrounds RallyX, which is on 4/21!
Last edited by a moderator: