Joined

Apr 30, 2005
Messages

883
Location
Car(s)

Mk5 VW Golf GTI, Aston Martin Vantage GT4 Race Car
A couple of weekends ago we had Formula Student UK at Silverstone (the first time it's been there after being held at Bruntingthorpe for the past 8 years. Overall our team finished 30th out of 70. The competition is quite complicated due it being heavily based on vehicle design as well as actual dynamic racing events, but we won the Cost event (basically our car was the most economically made but also not rediculously so). We had issues in the dynamic events as we had not tested as much as we would have wanted which meant we were still setting the car up during the weekend when we should have been fine tuning it. I drove for the Sprint and Endurance parts of the event and managed to drag the car into 22nd for the sprint. As so many racing teams say though.....the car is capable of much more and I was struggling massively with understeer and a missifire. Not to worry too much though as I'd managed to get the car into the fastest of the 3 groups. Needless to say...driving round (an admittedly very coned off) Luffield at Silverstone the weekend after Hamilton slid his McLaren round it was pretty cool.
Anyway...enough waffle.....time for pictures:
Some of our car: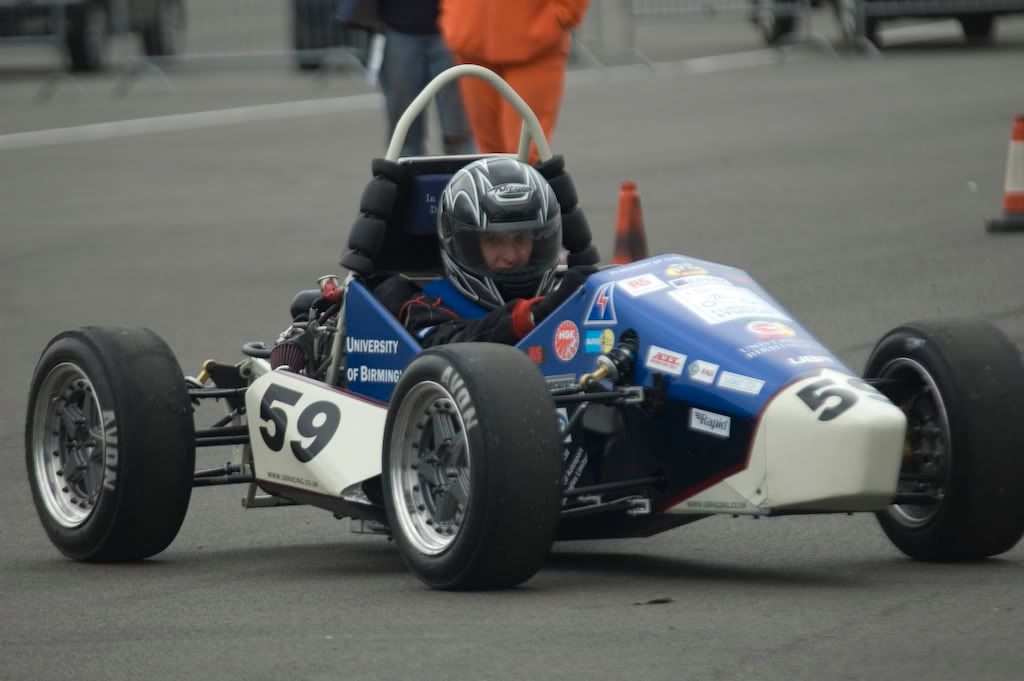 Just after we delivered it to our pit garage on Weds evening:
Performing the tilt test as part of scrutineering: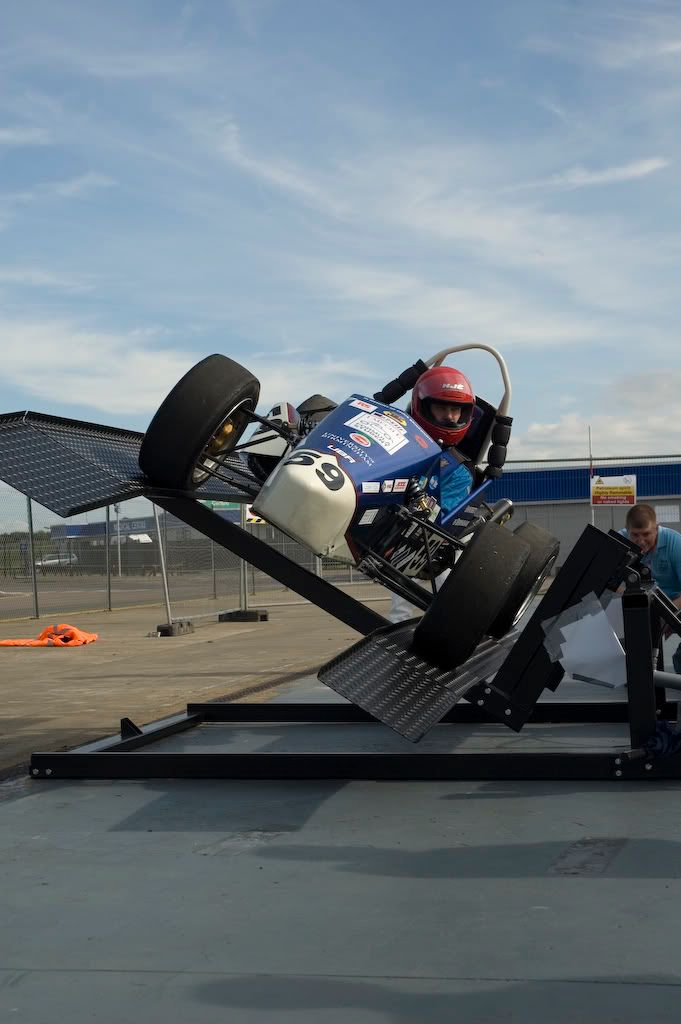 Rolling the car back after some testing:
Circling for another attempt at the brake test:
Now for some of the other teams cars:
Helsinki Finland have been going for 4 years now and have a reputation for making pretty well made steel space frames with composite bodies. They run the same Yamaha R6 engine as us, but do a lot more testing! They also had a really wierd diffuser this year. It's questionable how well aero works on the cars due to the low average speeds the tracks have (30-40mph). It's becoming increasingly accepted though that diffusers to seem to help to a degree.
Lining up for their brake test:
And again!:
Mmm fancy steering wheel!: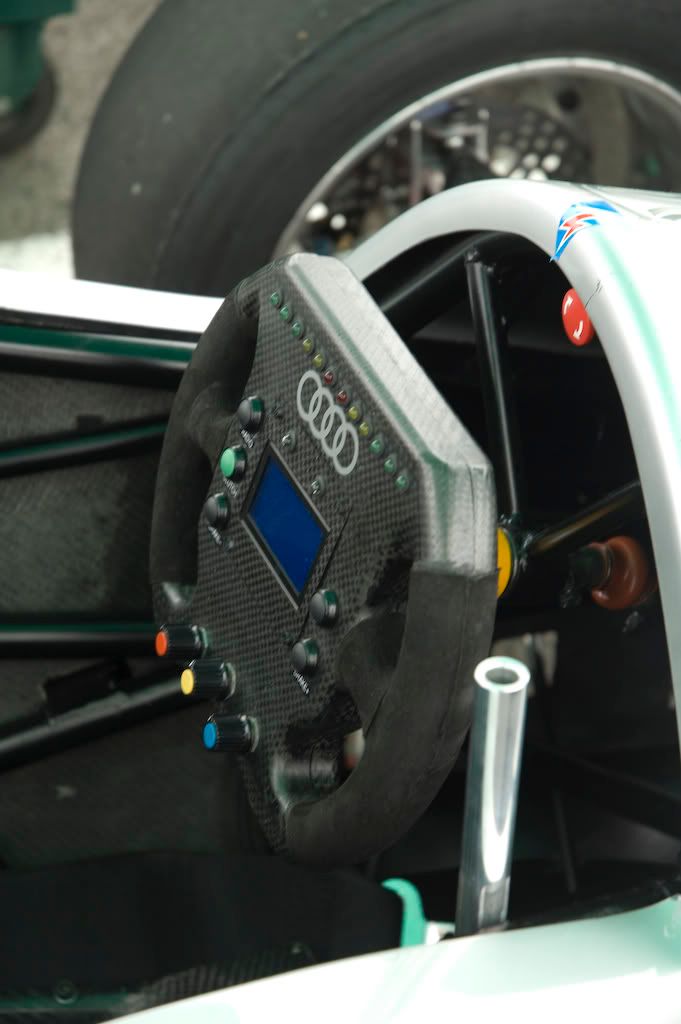 Wierd winged diffuser. "Apparently" it gives and extra 150% more downforce!: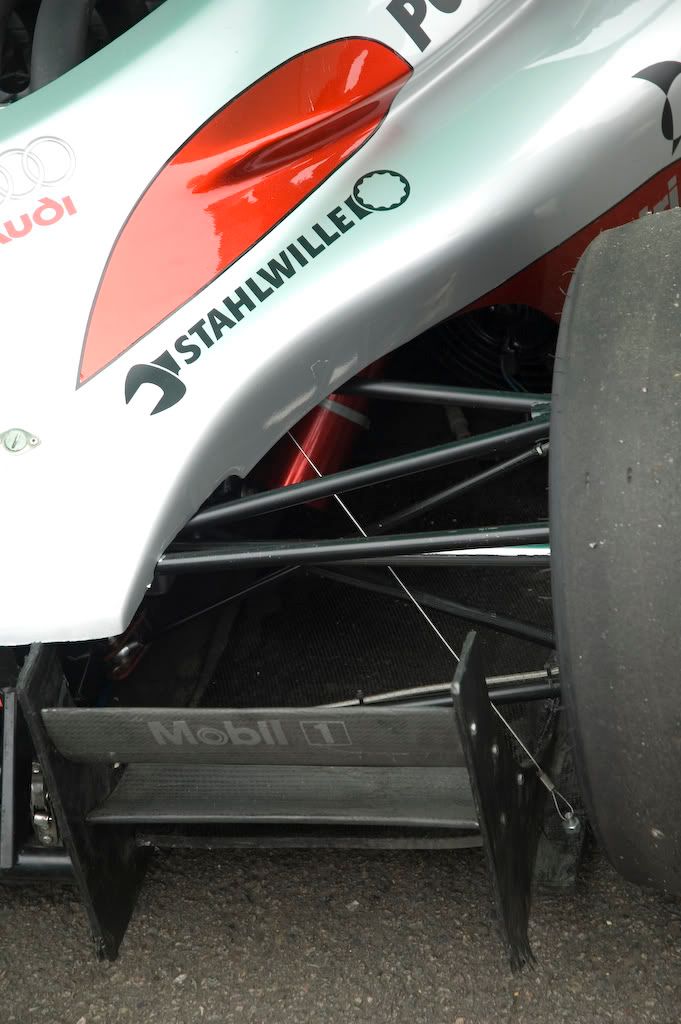 Now for TU Graz. Kind of the Ferrari of Formula Student! They allegedly get 1million Euros a year from Red Bull and have practically everything you could think of. A full carbon monocoque, carbon wishbones, carbon wheels, traction control, launch control, pneumatic paddle shift, full telemetry and a very low weight for a 4cyl car.
Crazy carbon!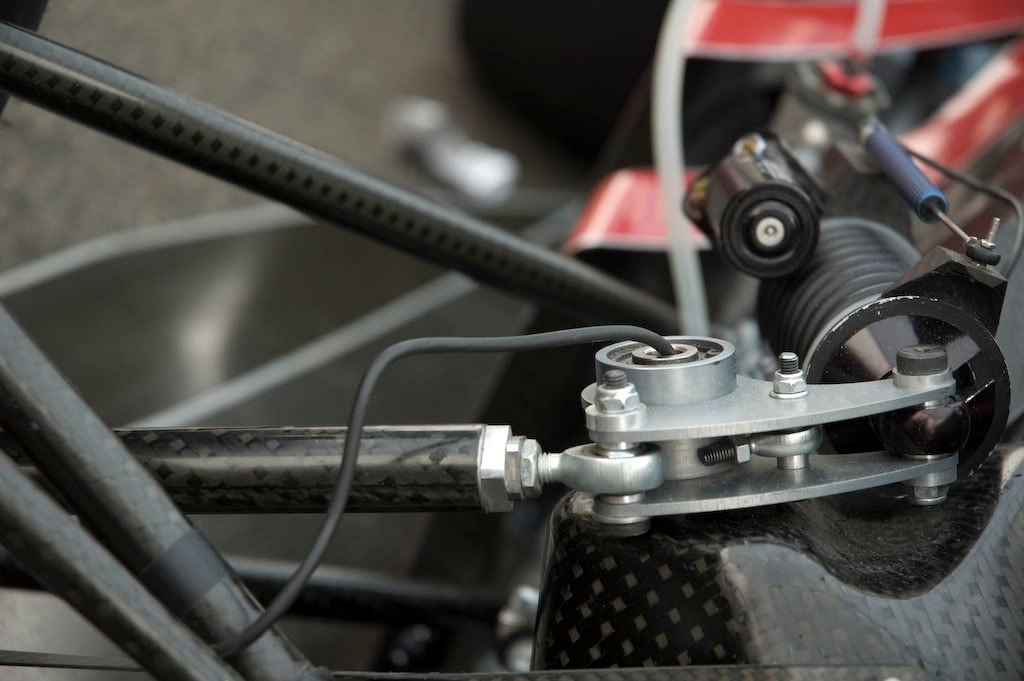 Telemetry aerials:
F1 style shark fin radiator extractors: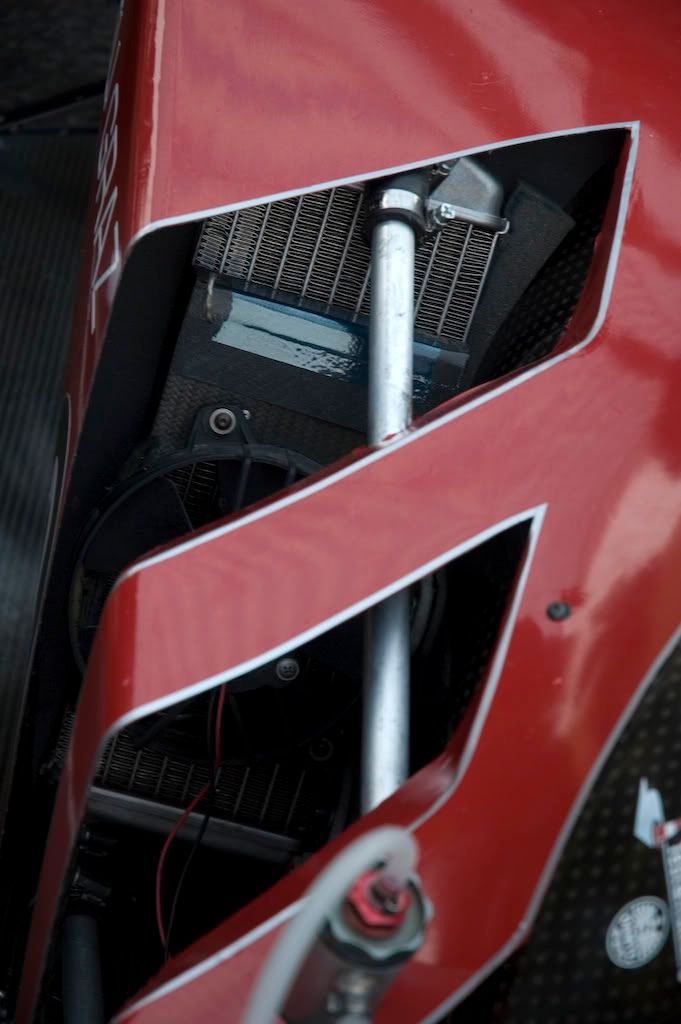 Sensor for their TC:
Even fancier Carbon steering wheel with massive telemtry screen:
Carbon wheels:
Now a few of the other cars:
Cincinatti:
Cardiff:
TU Munich: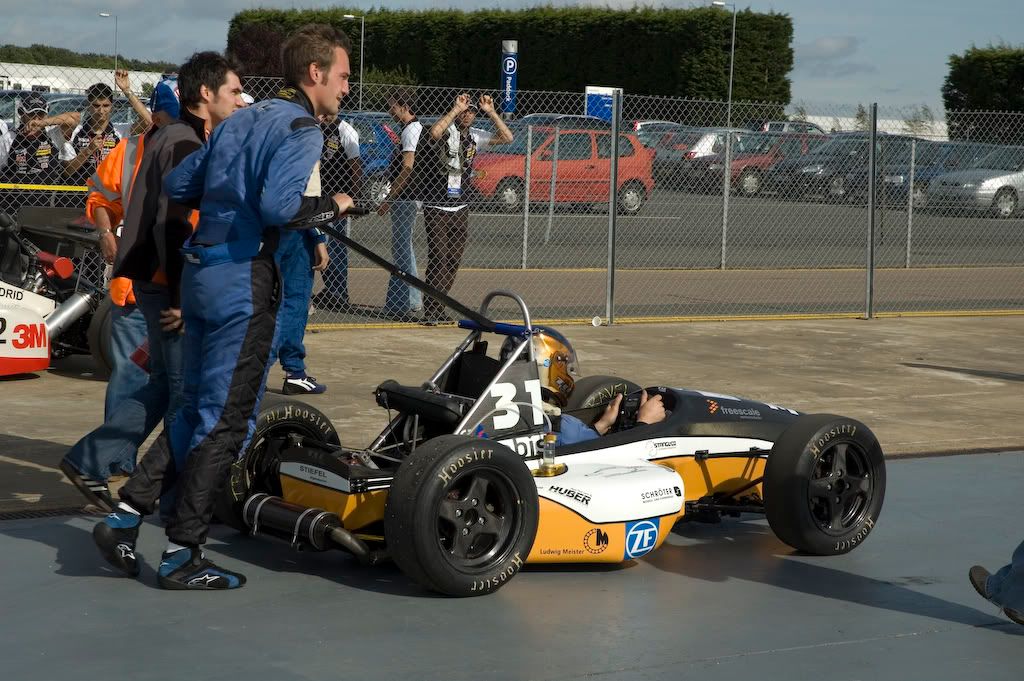 TU Delft - The 2nd lightest car at 152kg fully wet:
Madrid: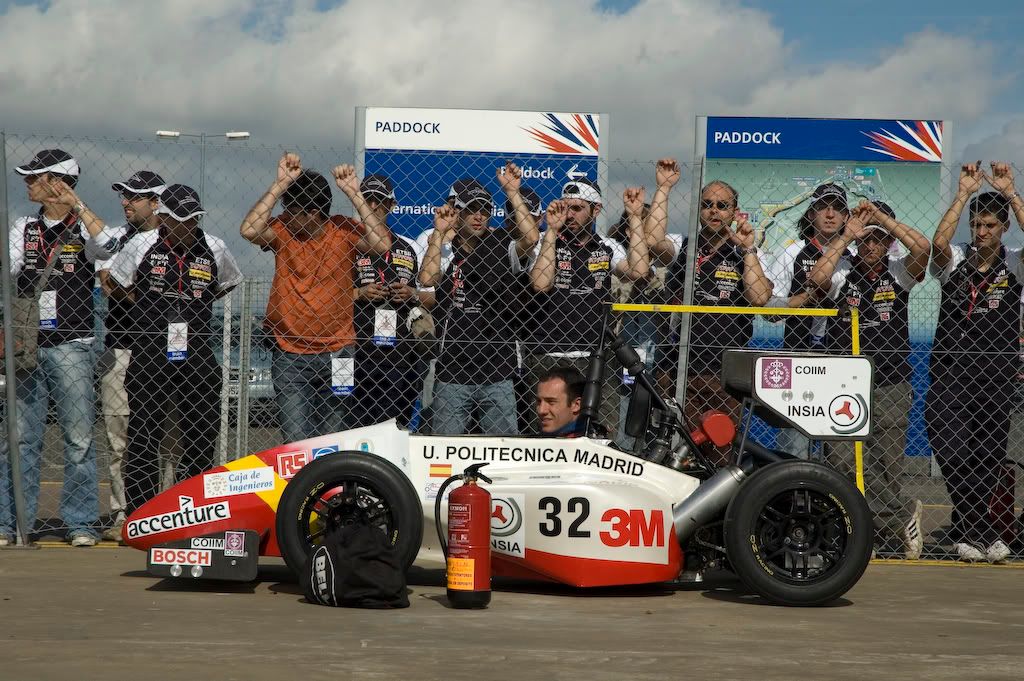 Eventual winners RMIT from Melbourne. Theirs was the lightest car at 150kg.
Chalmers from Sweden - Very nice spaceframe car running a Yamaha Fazer engine running E85 Ethanol and a supercharger
ETS from Canada. Another light single cylinder car:
A couple of the photos were stolen off the Hesinki website because due to being a driver, I wasn't able to take many photos when I was actually in the car and missed out on general overview pictures!
Finally....an onboard video of the sprint track taken by Hertfordshire. It annoys me because my apex speed was virtually the same. Our engine troubles cost us about 4 seconds!
[YOUTUBE]http://www.youtube.com/watch?v=GOxfsdznTsg[/YOUTUBE]