Grouchy Beemer Owner
STAFF MEMBER
Joined

Feb 17, 2007
Messages

6,049
Car(s)

E39 M5, Cadillac Fleetwood, VW Eos, Focus Wagon
So.. where do I start? Problabay with the question most people will have on their mind first:
Why!??
Long story short, there is 2 parts to it:
- cheap
- Kelly wants a convertible
So what exactly did I buy, and why "Someone Else's Problem"? Well...
- 2006 VW Eos 2.0 FSI
- The roof doesn't work and the seller was frustrated enough to take a big loss.
Now that the short and dirty facts are out of the way, here are the 5 pics from the ad that was online, already indicating the still current condition of the car
. I guess I'll explain in a bit more detail below... if you actually care, which you don't and it is ok!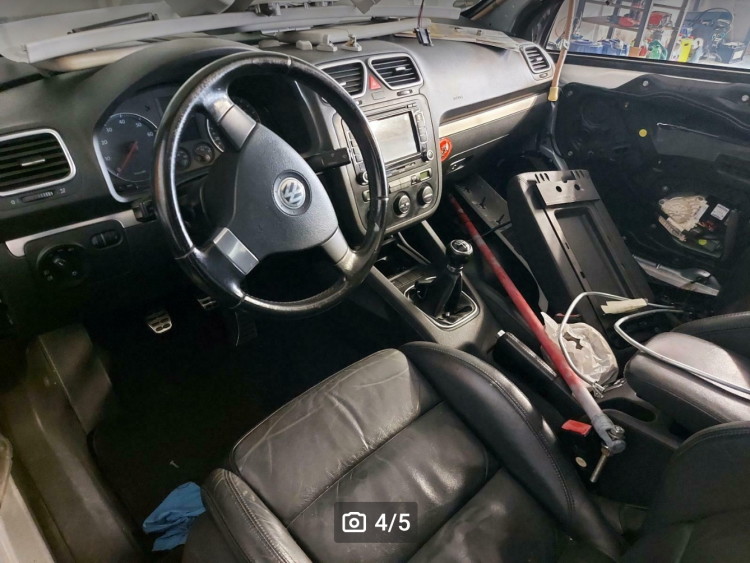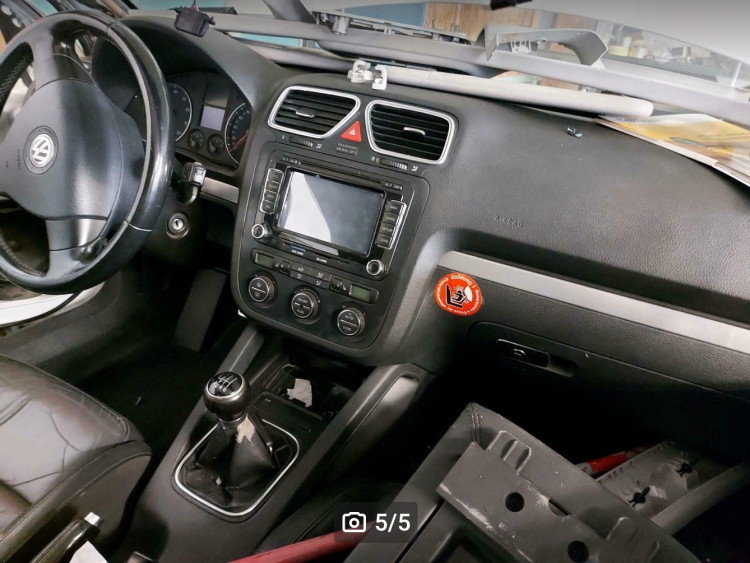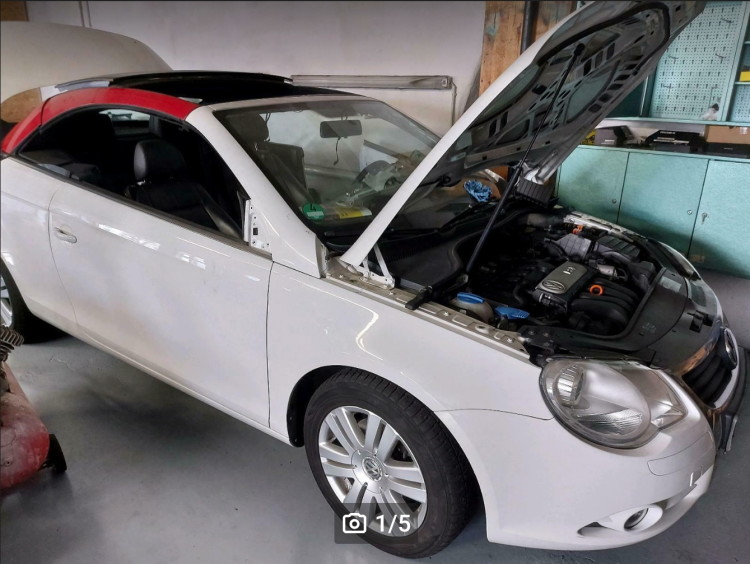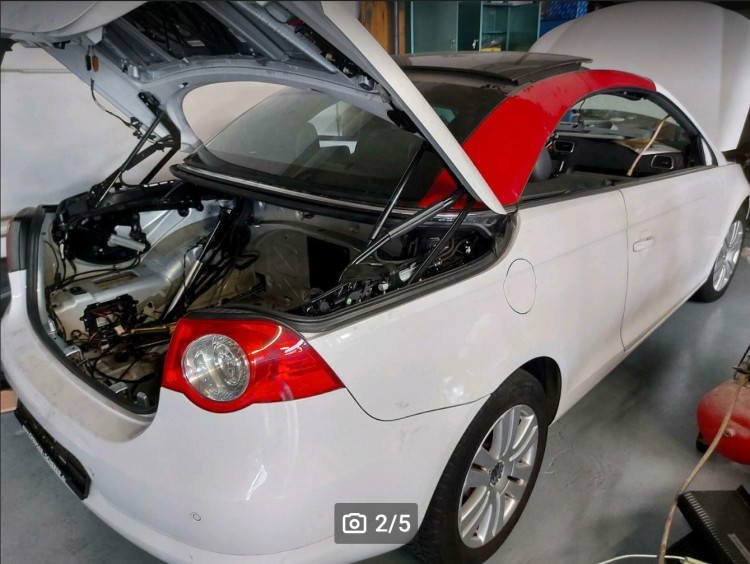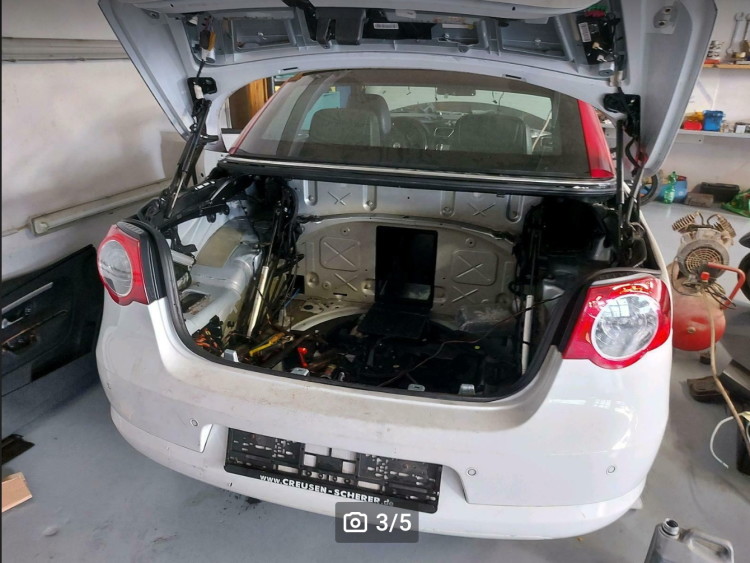 More pictures can and will follow once the car is actually in our carport, where the hopeful resurrection will happen.
So what is going on..? Well, some of you might know about Kelly's lovely Audi A3, which underwent various surgeries over the last 6 month, from engine oil leaks to all around suspension to most recently the (god damn) exhaust header and brakes, until it finally passed TÜV. Now that it is TÜVed and roadworthy and all, it might also have outstayed its welcome..
Ontop of that, Kelly has been thinking about (and subsequently me - and various other informed and bored FG members - looking for) convertibles. Although it isn't easy, since her criteria are a bit difficult.. she wants at least 150hp, kinda 4 seats of sorts (rear seat needs to fit a 6 year old at least), but an A4 is already too big. And it kinda has to be an A3 convertible anyway, because she loves those (while their side profile / rear appearence makes me feel kinda sick). But A3 convertibles often come with TSI engines, which in those days kinda all sucked to some degree, possibly more than her FSI right now, which was also available in those A3Cs. But obviously I've been looking at 1-series convertibles, Golfs, Eos, Meganes and all kinds of oddballs, weird things and general convertible-like vehicles... But as this is totally how it works, she also doesn't wanna spend money on cars, but wants alllll the car, but also maybe doesn't want a convertible that badly.. and maybe the A3 should just stay now that it is fixed.. but then a 20°C week rolls around and she comes home from work, walks in the door and just states "I need a convertible!". Women.
Cue me going back to the on and off searches I have had and done for month.. and I stumble over a listing from I think around mid February. Some small shop / side-gig kinda garage had a listing on the "local" classifieds for what definitely qualifies as a "project", in my book at least. Back then I spotted a 2005 VW Eos listed "für Bastler", aka the german equivalent of a "mechanic's special" or at least just "project car". The ad stated the roof wasn't working due to unknown reasons despite already having been replaced. It allegedly worked briefly after it was put on, but doesn't work now and he has run out of time and patience to keep working on it. The listing was up for 2500 EUR, firm, not negotiable according to the description. I saw that and it piqued my interest, despite it being obviously in parts and all.. so I did some quick searching, because I didn't recall Eoses(?!) to be this cheap in general.. and locally they are definitely not, the cheapest one in a 75km range (real world results within 100km-ish) I could find was one I also had bookmarked, 4000 EUR, also 2005 2.0 FSI, apparently all fine, minus a "oops I didn't see that boulder" style big fat dent in the passenger side rocker panel. But then I extended the search to just nation wide and got results as cheap as 2400 for a non-OP roof car with higher miles, while the cheapest running and driving one with a working roof at the time appeared to be 3500 EUR, half way across Germany. Still, I figured that isn't worth the hassle for what it is.
4 weeks pass, and I get a notification that the price had dropped on my watched ad "VW Eos für Bastler". I go check it, just to see it is now .. 2499 Euro FIRM. Yeah, thanks dude.
2 more weeks pass, I get the same notification. I am expecting 2498 at this point, and when I click on it.. I find 1999 Euro FIRM.
Cue another week passing.. you get the point... 1799 Euro FIRM.
One more week.. *ding* .. 1799 Euro *negotiable*
3 days later (Monday), I started messaging him, asking for general condition of the car despite the inop roof, he answers short and slow, but sufficiently.
Tuesday - I ask if I could take a look at it - he approves of that plan, but I don't follow up just yet
The same day I convince Kelly to have a look at make a test drive with ... the 4000 EUR one with the smashed in rocker panel, which is sitting at some backyard dealer lot half an hour away. Also, by chance, was dropped to 3300 EUR just the other day, after being online since last year. He picked up and hung up on me twice, so I had zero issues just abusing him for a test drive. So in the early evening we head up there, find the dealer, find the car.. parked in 3 rows deep.. in the back yard of the dealer... and notice that the windows are rolled down a little bit on both sides. Guess what.. driver seat covered in mold, as were some of the trim panels next to the driver door/window.. less so but still some on the passenger side. It was at that point that we immediately abandoned the ideae of even sitting in this thing, let alone ask him for a test drive
. The car still had a faded printed out mobile-de sheet where it was advertised for 4400 EUR.. I had seen it first for 4000 back in I think December 2020? Anyway, he's now asking 3300 EUR for a minor accident car with a moldy interior.. lol
Thursday - I go back to the ad and ask if he got time Friday, since I'm in the area, but he doesn't.. only Saturday.
Saturday, Kelly and I jump into the trusty free-fuel-Focus and head 45 minutes south near the swiss border, where we find a super small shop - definitely a side gig, an Eos in a corner, and a very nice but also very frustrated seller.
The cars backstory: He bought it with a not working sunroof - yes, it is a convertible roof with an integrated sunroof - but working convertible roof. He figured the straight swap approach is easier than the fix-the-actual-problem method, and bought an entire used roof to install. He did that, it worked initially, then when he went to put it all back together, it suddenly decided to no longer work. It has a working sunroof now, but the convertible roof doesn't work. He said the system doesn't spit out any error, it says roof ready, but it just doesn't do anything. he tried various things and apparently was even able to move it with the motor hot-wired to skip whatever sensors etc are involved. He assumes now one might need the VW Diagnostics software (VCDS) to "teach" the new roof or reset or calibrate or whatever, and he wasn't able to get his hands on it. So after trying forever and sinking money into a second roof, he ended up giving up and being frustrated.
I crawled around, in and under the car, it looks solid, all the taken apart trunk and interior parts look scary, the car has cosmetic issues, but all in all, it seems ... fine?! The only non-roof-negative I could find was a big one, but also not that relevant in the end. The car, as you see above, is white. The red roof is from a red donor car, the default color for the roof was black, or body-color. But as you can also see in some of the pics above, the car actually used to be silver! First I thought it was just the base coat on inivisble panels, but after inspecting it all around, this car was definitely repainted. A lot of things were removed and paint applied far into jams and partially the engine bay, but stone chips reveal silver, metallic at that, and there is obviously loads of silver all over the trunk area under the trim. The rear bumper has peeling clear coat, as do the mirrors (they were removed as paint prep but never done), the rear bumper also has a nasty little (~3-4cm) gouge, but hey. While digging around in the car I found some history documentation for it, but not tons. It never had any big issues during the last 3 TÜV inspections, which btw it needs again in October this year. It is sitting at 160048 or so km, which seems believable. It has 2 keys, and I stumbled over his own bill of sales when he bought it late last year.. he paid 2000 EUR for it
I probably spent 30+ minutes inspecting it, thinking about it, looking at things.. recalling research.. doing math.. you know, making bad decisions basically
. At the end, I talk to Kelly, she says it's all my problem, but if fixed she can see herself driving it, and after double and triple checking mobile-de and autoscout for the cheapest possible Eos, I decide to ask him how desperate he is, and how quick he wants it sold (Instant reply "today!?") and make an offer, So I asked if he's annoyed enough to take 1500.. he spends 3 minutes re-telling the story, thinking about it, pulling his hair out, and counters with 1600. I look at Kelly, she looks at him, smiles innocent, and suggests 1550
. He hesitates a moment, paces around for moment, I tell him I'll get the cash from the bank around the corner.. and he agrees to 1550. So we shake hands and he writes up a bad excuse of a sales contract while I get the money.
I got time to retrieve it now, he said it doesn't matter when exactly I get it, just to call him beforehand so he can make time. My biggest problem is now that I need to either register it, or get temp-plates, both of which requires an appointment at the DMV, which is closed for walk-ins due to corona reasons and the mandatory online appointment system tells me to go hug a tree, because there ain't no appointments in all 3 locations in the next 2 weeks. And since I require new plates, I need to do it in person and the mail way is not an option. Anyway, I'll get on that and try to find a way to do it faster, if I can. I also might end up renting a van of sorts to transport the old roof that the car came with before he swapped it. I can have it for free, and even if it isn't working completely, it might be fixable, or good for parts, or who knows.. intact complete roofs in working order sell for 500-800 Euros. Too bad it is so big and bulky, and also apparently with ~100kg rather heavy.
Anyway, the plan now is to get it here, see what's what, reassemble everything that doesn't need to be apart, and then start over with the diagnostics process. I already did some research, and while there I noticed an error message that might be helpful. Maybe. The cars battery was flat at this point and he hooked up another one to give it some juice, but it was also near-dead. When it came back to live, barely, it dimly showed a few messages and then settled on one roof message: Speed too high! That message usually only shows up when you try to operate the roof at too high speeds, not when stationary. And according to my research, it also should only come up when you are actively pulling on the roof-switch. I found one instance where this fault was caused by a faulty roof switch, which I also found references to for sporadic faults of working/not working. So, naturally, I already ordered a replacement switch on ebay for 9,50 EUR, just in case
. I have reached out to some people regarding VW software, but so far not exaclty what I need.
Anyway, that is it so far, I'll keep y'all posted, I am also considering filming my growing desperation when I can't fix it