Joined

Jan 7, 2007
Messages

633
Location
Car(s)

2007 Honda Civic
A different take from the european market. Here goes. Its all in japanese so let the pictures do justice
EDIT: Added a whole lot of new stuff and additional info on both cars!

Honda CIVIC TYPE-R
http://www.honda.co.jp/CIVICTYPE-R/
Notice its shoes.. Potenza RE070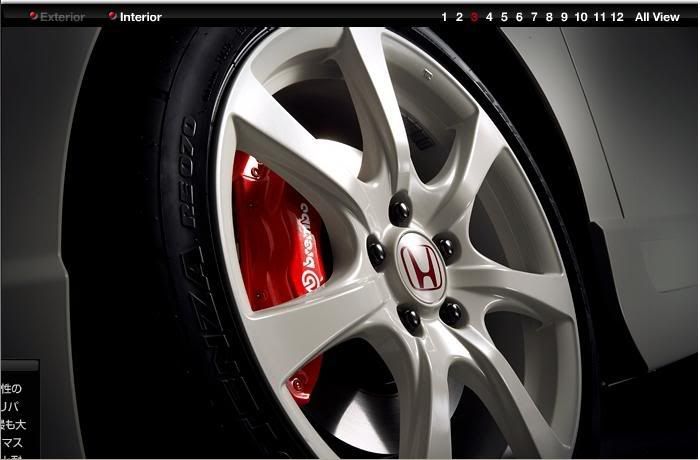 The sedan version of Honda?s new Honda Civic Type R will go on sale in Japan beginning today, Friday March 30th 2007. Key features include the high performance high revving K20A 2.0 liter normally aspirated engine found in the Europrean Civic Type R hatch mated to a 6-speed manual transmission, a torque-sensitive helical LSD, large 18 inch wheels providing a peek at the huge 17 inch disc brakes with 4-pot Brembo calipers behind them, as well as a sporty bodykit. The bodykit includes a new bonnet design with a more prominent dome. Suspension has also been tuned for sporty performance and features thicker stabilizer bars.

Interior enhancements over the normal sedan include a new black color scheme, bucket seats exclusively designed for the Civic Type R Sedan, a new dash featuring i-VTEC engine revolution indicator alerts, a small-diameter leather-wrapped oval steering wheel, an aluminum ball-type shift knob, a short stroke sports shift linkage, metal sports-type pedals and footrest, and a button-type engine starter.

In this edition, the K20A revs all the way up to 8,000rpm with an output of 225 PS, and churns out a peak of 215Nm of torque at 6,100rpm. Throttle activation is via drive-by-wire, and the intake and exhaust manifolds are tuned for high revolution engine output. The 6-speed gearbox ratios are perfectly matched to the rev range and torque curve, as can be seen from the gear position, revolution and torque curve chart after the jump. It also sports a highly rigid aluminum transmission case and a baffle plate to mitigate oil starvation during high speed cornering.
more pictures here:
http://paultan.org/archives/2007/03/30/2007-honda-civic-type-r-sedan-details/
Mugen CIVIC TYPE-R
http://www.mugen-power.com/street/CIVICTYPE-R/index.html
Now upon reading the title, I bet the first question that most of you will be asking is this: does the MUGEN Civic Type R come with the 300hp supercharged version of the high revving K20 motor found in the MUGEN Civic Dominator Concept? The answer is no. A pity, but life goes on. Now on to what the MUGEN has instead of what it does not have.

The MUGEN Civic Type R comes with a bodykit all-round: front lip, grille, a vented bonnet design, a GT-like rear wing and a diffuser-design rear bumper. It has uprated brakes over the standard Civic Type R (320mm front and 282mm), uprated brake pads (two choices: sport or competition), as well as a micromesh brake line. Wheels are 18 inch aluminium MUGEN GP wheels, similiar to the ones found on the local Honda Civic Concept MUGEN Limited Edition.

On the handling side, you?ve got a MUGEN sports suspension. Changes to the engine bay are not much, just a MUGEN performance airbox to let the engine breathe freeer, improving throttle response and maybe a bit more power. On the interior, you get MUGEN Full Bucket Seats, a MUGEN shift knob, and additional meter panels (a 3-dial cluster to the left of the Multiplex meter) providing extra information on the condition of your car.
don't like the rear spoiler though.. too high..but i guess this is function over form..
Link to more pics here:
http://paultan.org/archives/2007/04/02/mugen-civic-type-r/
better than the euro civic's exterior but i still like the euro's interior better
EDIT: Added Youtube videos and edited this entire post... see videos below
Last edited: