Grouchy Beemer Owner
STAFF MEMBER
Joined

Feb 17, 2007
Messages

6,191
Car(s)

E39 M5, '94 Cadillac Fleetwood, '21 Focus Wagon
Why hello there everyone. I have a proposal / idea:
Shortly after the flooding in the Ahr-valley that most people are aware, which destroyed many homes and livelyhoods, as well as washing away all current Ringmeet plans, an idea I had before came back to me, with this new context. As a bunch of you know, I've been doing stupid videos on youtube about cars for a few month, and I can't help myself but look for cheap shitboxes all day long. The problem I always had: There is so many so cheap shitboxes out there that I could buy for the equivalent of filling up the M5 2 or 3 times, ... but what am I going to do with them once I fixed them up? A while ago I thought about reselling them, or finding local people in need and giving them away, but I ended up not doing any of that, especially since I also didn't have space to do that. So, now.. now the idea came back, because now there is a whole region, several towns worth of people, that need transportation. And I know that a lot of them will get their money back from the insurance company, eventually. But I also know that a lot of people probably didn't have the neccessary insurance (Teilkasko here in Germany). Those people don't even get to fight the insurance company and wait way too long before they get some money to buy whatever they can find or afford. Those people don't have a car anymore. Period. And probably not much of a home either.
Edited in: The GoFundMe due to the positive feedback.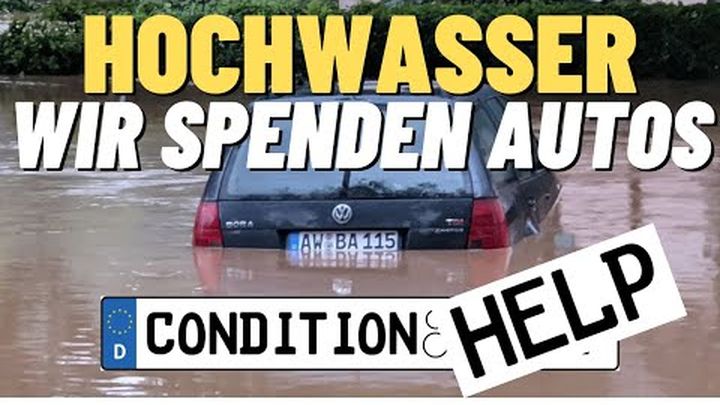 ENGLISH VERSION BELOW Hallo zusammen! Ich möchte auf diesem Weg … Thomas Endesfelder needs your support for Hochwasserhilfe Ahrweiler - Autos statt Geld
So what exactly do I want to do?
The idea is to set up a donation/crowdfunding system for the explicit purpose of finding, buying, fixing if needed, and then giving cars to people that need them. I am not talking fancy cars, I am not talking cars that they'll keep forever, I am talking something that will get them into 2022, by which time they hopefully have all their other problems sorted. So lets go through the steps and what my idea/plan is for each of them.
1.) Finding them
That is to a degree the easy part. There is plenty around where I live, many things with and without TÜV for 100-500 Euros, often negotiable. Just got to pick ones that are worth fixing for cheap or already good to go with about a years worth of TÜV, just making sure they are not deathtraps. I will happily invest whatever time is needed to look for and at those things.
2.) Buying them
Well, straight forward, that is where *you* come in. People have threatened to throw some money at me in order to buy some ridiculous shit, just for the fun of it. I'd rather throw money at cars for people in need. If I proceed with this idea, I will try to spread this in all automotive circles I am in, in an attempt to reach as many people as possible. Because in the end, every Euro adds up and buys maybe an oil change, some brake pads, or new wipers.
3.) Fixing them
This is where I need to basically trust myself to find cars that have problems that are easy and cheap to fix, but often not worth people paying a shop to do them. I'd just get the parts needed and attempt everything fully DIY in my garage, now that I have one.
4.) Giving them away
This part is actually a bit more difficult. First of all, I need to get the cars up to the affeceted area, which requires either temp plates, or them to be still or already registered. I can't register a bunch of cars in my name on and off all the time, that's just not time and cost effective. Neither are normal temp plates really, since they're car bound and only valid 5 days. I'd either try to get cars that can remain registered until delivered up to the region, or see if I can find a shop with dealer plates, that is willing to lend me those for this cause. Then, I'd obviously try to make sure the car legally changes ownership, although I have yet to run into anyone asking for proof of that when registering a car in the last decade or so. Nonetheless, I'd probably for everyones peace of mind set up sales contracts for 1 Euro. And give them 1 Euro beforehand. I am assuming funds for taxes/insurance will be available, since they are freed up from the car they lost. Initial registration, don't know, that's about 60-70 Euros with plates.. not sure if that is something they'll have to / can pay, or that needs to be donated too?
The Goal?
Honestly, I'd even consider 1 car found and given away a win. 2, even better. 5? Hell yeah! Don't know. No plans.
What else?
I am also considering asking local shops if they'd be willing to look over cars that I find for free, basically a "TÜV"-lite check, or PPI if you want. But I don't know if I'll be able to source that or not, just like the dealer plates for moving them.
I am also not saying only I can do it. Others are welcome to join in if they have the ability to find, get, fix and deliver cheap cars.
So - what do you think?
Edit 1: I would also very likely try to rely on Viktoria and Christoph as pillars of the community to point me at the people in need, and possibly as a "storage" location for ready to go cars.
Edit 2: I'd also be open for people to find and pick their own cars if they wanted to donate a specific one, as long as it is feasible to retrieve and fix that specific car. Sources are the ussual suspects, ebay Kleinanzeigen, mobile, autoscout..
Last edited: