I thought I'd post my motor too.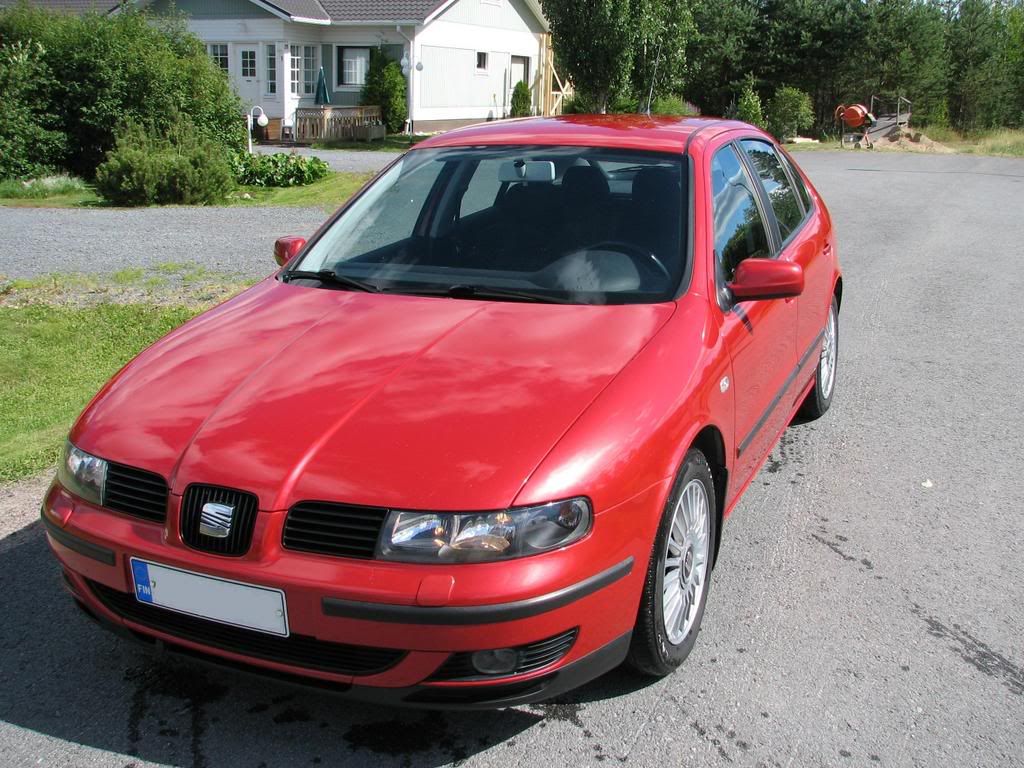 The rear end
It's a 2002 Seat Leon 1.8 20VT Sport. That means it has the almost legendary VAG 1.8 turbocharged engine with 180hp and about 240Nm @ 1950-5000rpm. 8)
Sport equipment level gives 15mm lowered & stiffer suspension, better seats and those multispoke 16" alloys, not much else I can think of.
It's a relatively small and light car (1250kg) so the 180hp engine and 6-speed manual box with short ratios give it pretty decent performance. 0-100kmh (that's 0-62mph) is dealt within 7.5 seconds and the top speed is 235kmh (147mph). But what I like most of all is the torque that little engine provides: 60-120kmh in third gear takes just over 6 seconds.
Shortly after I bought the car, I fitted the car with Eibach's Pro-Kit springs and 18" 20-spoke alloys.
Side view
Straight out of a car wash
The ride with those heavy 18" wheels and 40-series low profile tires was at best quite poor (that was expected though), so I only used them for one summer and sold them forward.
Last winter I changed the suspension once again to Eibach Sport-System incl. sports springs and shocks. It really changed the car's driving dynamics to a whole different level. Not too harsh but really controllable and safe.
Having a little play on an empty yard
When the spring arrived I purchased 8x17" O.Z. Racing Superleggera wheels and fresh Falken FK452 rubber.
The O.Z. wheels don't only look good but they're technically superior to most wheels out there. They're very very light (only 7.5kg a piece), very strong and true.
O.Z
Those skidmarks aren't (all) mine.
New pedals and floor mats
I've also had the windows tinted lately. Will post a pic soon.
All in all I really like the Leon. I think it looks much better than most competitors and is better value as well. It's fun to drive, economical (it does 8l/100km or about 30MPG) and looks good. Recommended.
This one cost 15000 euros when it had 90000km on the clock. It's pretty much a standard equipped 1.8 20VT Sport with only metallic paint and cruise control as factory options.
I know, cars are very expensive in Finland..
Last edited: