Joined

Sep 3, 2006
Messages

6,653
Location
Car(s)

'04 Toyota Corolla LE
Might as well start a new thread for the upcoming season.
Alvin Gentry Will Join Doc Rivers Staff with Los Angeles Clippers

By Josh Hill - Jun 26th, 2013 at 3:47 pm

He was being considered for some head coaching jobs including one with the Los Angeles Clippers. But instead of taking on that position with the Clippers, Gentry has decided to join Doc Rivers staff as an assistant head coach. According to ESPN Los Angeles reporter Los Angeles Lakers head coach Mike D?Antoni gave his blessing to Gentry this morning.

Besides being considered for some head coaching jobs this offseason, Gentry was mainly trying to decide which assistant job he wanted and it appears he?s found the one he wants on Rivers staff. Prior to his decision to join the Clippers coaching staff, Gentry was considering joining Rivers staff already so the fact that he?s found his way on the the same sideline as the head coach makes perfect sense.

It?s not the most glamorous job being an assistant but Gentry seems to be lining himself up well to be a Brain Shaw type pick of the litter coach either next season or the year after that. Shaw was an assistant on Frank Vogel?s staff in Indiana and the Pacers ride to the Eastern Conference Finals made him a star on the coaching market.

That seems to be the future for Gentry who was already getting some head coaching consideration but some time served on Rivers staff in Los Angeles will only fast track him to a top job down the road.
Pretty nice pick up for the Clips considering they also just hired one of the best coaches in the league right now in Doc Rivers.
With the Clips getting some top-notch coaches, I think Dwight should strongly consider finally joining forces with CP3 (they've been talking about doing that for years). Houston looks like a nice fit, but I think the Clips look even better now because 1) they just got two great coaches, 2) Dwight loves LA (just not the Lakers
), and 3) CP3.
Now, there were rumours going around that the Lakers might sign and trade Dwight for Blake Griffin and Eric Bledsoe. Also, the Lakers have said that they refuse to S/T Dwight, but now that may be their only choice because Dwight will come to them and say he doesn't want to sign with them and be apart of a rebuilding phase (he wants to win NOW and the Lakers aren't a championship team right now, not even close). Are they just gonna let Dwight walk away for nothing, or are they gonna S/T trade him to the Clippers and get Griffin and Bledsoe in return?
It's a win-win for both teams because the Lakers will get a sold foundation for rebuilding and the Clippers will finally be a top contender coming out of the West (Griffin never really performed well in the playoffs) because they'll have CP3 doing his thing, Doc doing his thing and a healthy Dwight doing his thing (+ some solid "other" players).
Free agency starts next week!
- - - Updated - - -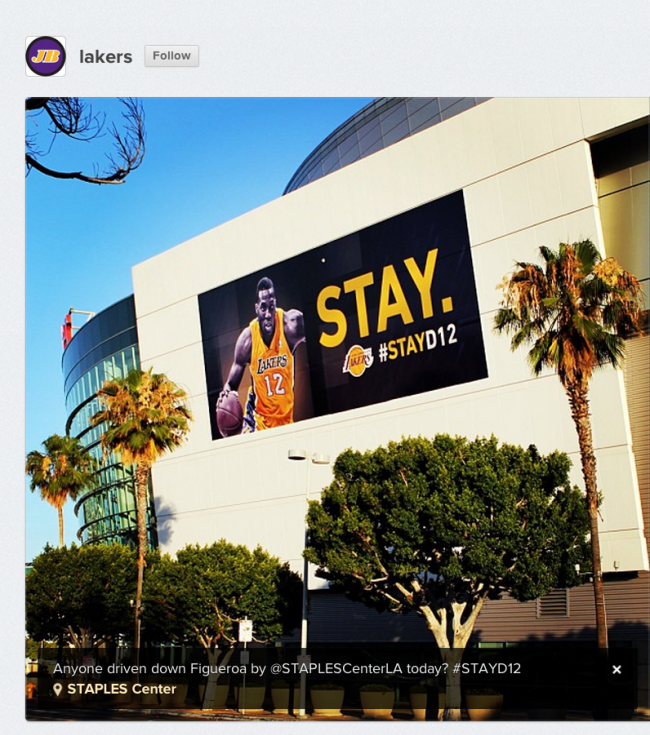 He might very well stay in the same building.
Last edited: