Joined

Feb 25, 2007
Messages

3,488
Location
Car(s)

98 Buick Park Avenue Ultra
So I don't know exactly how long it's been since I last played, but I'm willing to bet it's been 5 years (possibly 6) since I actually had a bass in my hands. Call it the start of a very early midlife crisis, call it the urge to scratch an itch, call it a lame attempt to recapture my youth, but I pulled mine out of mothballs a week or so ago to start playing and rebuild my long lost callouses.
Or that was the idea rather, because I ran into two problems.
1 - There's been a small problem with a static buzz on my Peavey that I never got around to resolving. More on this in a second.
2 - Despite staying in its case for the last several years, the hardware on my Schecter had somehow become corroded. The bridge, the knobs, the frets, even the tuners had a bit of it going on. Look at this shit.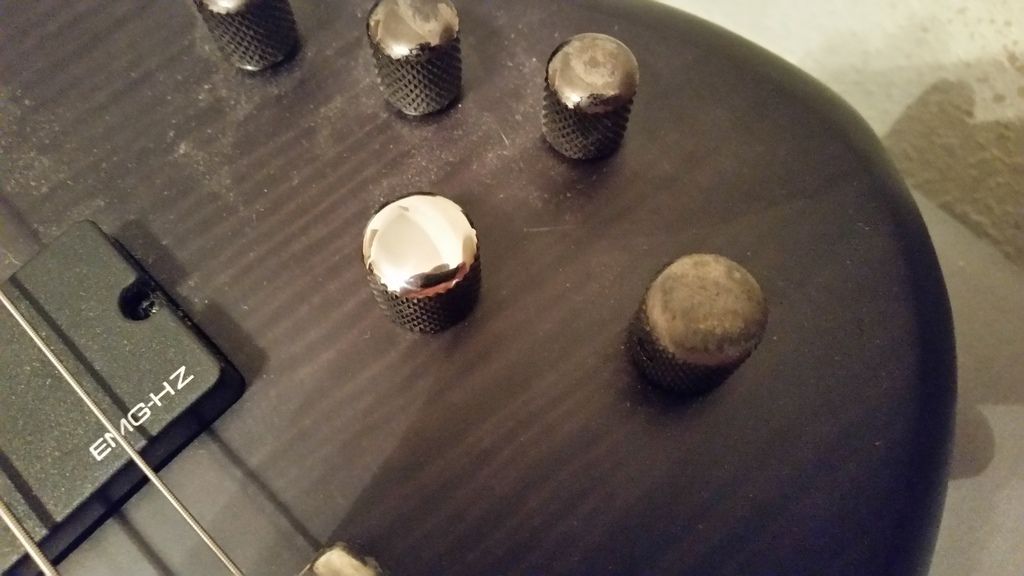 This was originally "black chrome", but it's obvious that it was just a light coating of some sort to make the chrome appear dark. The one shiny knob is after I hit it with my trusty dremel, a buffing wheel, and some compound. The shiny bit on the bridge was how it came out of the case, it's like the dark coating just evaporated and where it didn't it left a rough texture.
Here are two shots of the frets, one with a flash and one without, you can clearly see the difference between the dirty frets and the one that's been cleaned.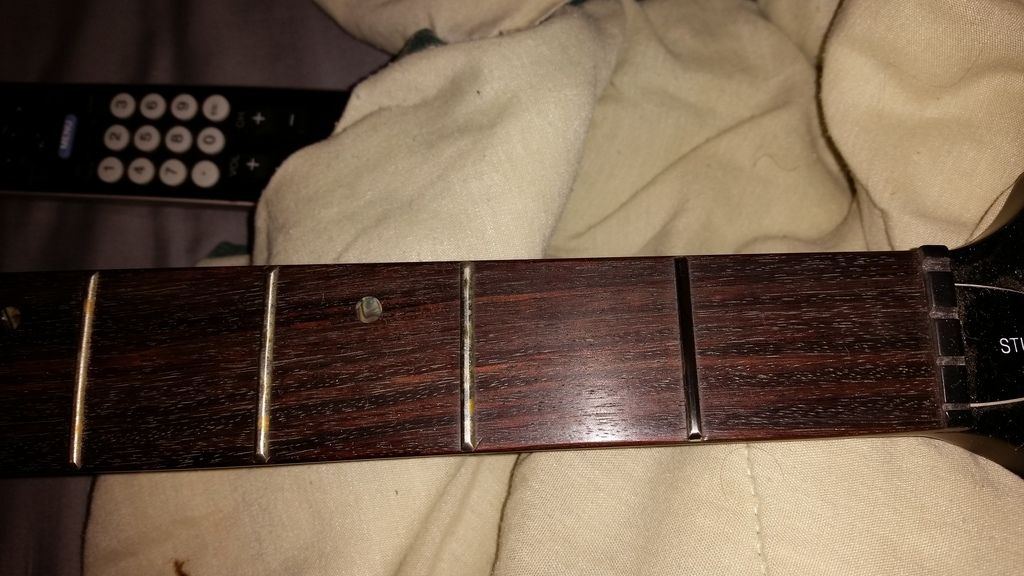 So what the fuck caused it? I don't know for sure, but I did a bit of research and I think it was actually from the case itself. Or rather the plastic off gassing that did it. Either way, the only black chrome that remains now are the tuners, everything else is the regular kind of bright work.
Now as for the Peavey, I made a thread about it on the Talk Bass forums, but they haven't been a huge help to me. The problem is that there is a low static sound I can hear when it's plugged in, but it goes away when I touch the pickguard or knobs. The more skin that makes contact the more it clears up, so I must have a grounding issue, but as far as I know I did it all correctly.
The bridge is grounded to the volume knob and I have a strip of copper foil connecting the pickup cavity to the pickguard, but it's still happening. So I don't know wtf is going on. But either way, I've decided that since I'm a lot more savvy with a dremel now than I was 7 years ago, I'm going to remake it from scratch. So I'm going to wait on trying to track down this gremlin till that's finished rather than waste my time and more copper foil.